From 1924 onwards, apart from the war years, there has been an Annual Service of Remembrance on November 11th, which is a national holiday in France. Click here for an account of this event.
The Royal British Legion
Paris Branch
Traditional Events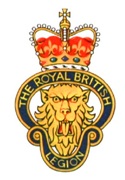 In addition to this:
On August 4th each year the RBL paris Branch has the honour of celebrating the "Ravivage de la Flamme " at the Arc de Triomphe usually with an ambassador of one of the Commonwealth countries as guest of honour.


The Paris Branch organises a coffee morning, usually in November,at the Ambassador's residence, kindly hosted by the Ambassador's wife in aid of the Poppy appeal. This is open to all to attend. It is part of a very active Poppy appeal.


There are monthly lunches at our HQ, 28 rue des Acacias, Paris 17 for members, theur guests and visitors to Paris.
.
Christmas events usually include a lunch and a dinner.


Regular visits to the War Grave sites of Northern France are often organised, usually in the summer months,


The Paris branch is frequently asked to parade the RBL standard at ceremonies in and around Paris.

For a calendar of current events, and how to attend, click here or on the icon at the top of the page.