With some regret, in 2009, the Paris Branch left its premises at 8 rue Boudreau, near the Opera, which had housed the activities of the Paris Branch for about 60 years. New legislation on the need for fire exits, access for the handicapped etc. finally made a move inevitable. This was accomplished to general satisfaction.
Our address is now 28 rue des Acacias, Paris 17.
The Royal British Legion
Paris Branch
Members' Facilities :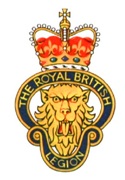 Our new premises have the legally prescribed facilities and they have proved eminently satisfactory.
Activities include a monthly lunch and you can see the dates and how to reserve this and our other many events on the "What's on?" page (click here or on the PARIS EVENTS icon).
The premises can be made available, by arrangement, to members and other organisations for private functions and catering facilities are an option.